What is a Physical Therapist?
A Physical Therapist is a licensed health care professional who examines, evaluates, and treats musculoskeletal disorders using research and proven techniques. A physical therapist will develop a plan of care to improve mobility, reduce pain, restore function, and prevent disability via manual therapies, modalities, exercises and other advanced interventions, while educating the patient on proper daily activity modifications.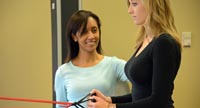 What is an Exercise Physiologist?
An Exercise Physiologist or Therapist is a skilled health care provider who works under the direction and supervision of the physical therapist. An exercise therapist will implement the prescribed treatment plan, training and educating patients in assisted and independent exercises, as well as perform therapeutic modalities as directed.
Ask a Question